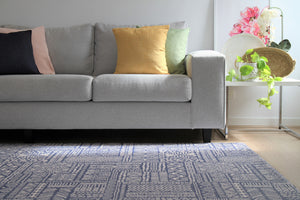 Play mats should do more than just take up space in your home
—they should safely and stylishly solve problems.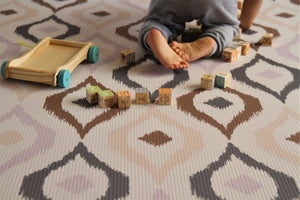 Our non-toxic, foam playmats are crafted to encourage your baby's personal growth, and build sensory awareness
An Exceptional Yoga + Exercise Mat For You
Cushmat is more than just a safe space for your baby, it's an amazing, stylish, and comfortable place for you to exercise. Cushmat, with its broad reach and 15mm thick, non-toxic foam is the perfect mat for your yoga practice
Learn More
Multi-Functional
Cushmat might be the perfect play mat, but it's more than that, too. Cushmat was designed to be entirely multi-functional, versatile, and to meet the needs of both children and parents
Learn More
PARENT'S PERSPECTIVE: WHAT THE BIG KIDS ARE SAYING ABOUT THE CUSHMAT EXPERIENCE
I love this stylish, fun and play area where my baby can roll and play. My doctor told me that my 4-month-old needed plenty of tummy time and a safe area for rolling, learning to sit up, and crawling. Our home has hardwood floors throughout the house so I was looking for a mat that was both super comfortable and non-toxic. This mat is perfect—it has a great design, it's soft, comfortable and thick. The best part? I love it, too. It's a great addition for both me and my baby

Ann - The best of both worlds
We currently live in a 2-storied townhouse and we really wanted a mat that was light weight and compact so we could move it up and down the stairs from Isabel's room to our living room depending on where she'd be playing for the day. Initially, we had a foam square mat with puzzled, interlocking pieces. And while that was soft, we'd frequently lose the pieces over time.  Cushmat was the answer I was looking for. It's light, comes as a one-piece mat, is beautifully designed, and is easy to move up and down the stairs. I couldn't be happier with my purchase.      

S. Robinson - Just what I needed
We used to have a rug for our baby to play on, but it was just not working for us. We often would have to vacuum it at least twice a day to make sure it was clean and safe, and even still, we never really felt like it was clean. This mat looks great and is so easy to keep clean and safe. We have a 1-month-old, a 2-year-old, and a 4-year-old and they all love the mat! It is super comfy, durable, waterproof, and most importantly, so easy to keep clean.

Tracey – Its perfect!
Safe for Baby & Safe for the Environment
Cushmat is proud to offer you and your family a safe, environmentally-friendly, and completely non-toxic mat that you can confidently bring into your home. 
Learn More